Depend on John Goudie Electric for Superior Solutions
John Goudie Electric is a full-service electrical contractor serving homes and businesses throughout Southern Maryland, Northern Virginia, and Washington D.C. When you trust our licensed electricians for your project, the job will be done right the first time, every time. We have the experience and expertise to handle all your electrical needs, and we guarantee your total satisfaction with our work.
We provide quality electrical services for residential and commercial properties in numerous locations, including: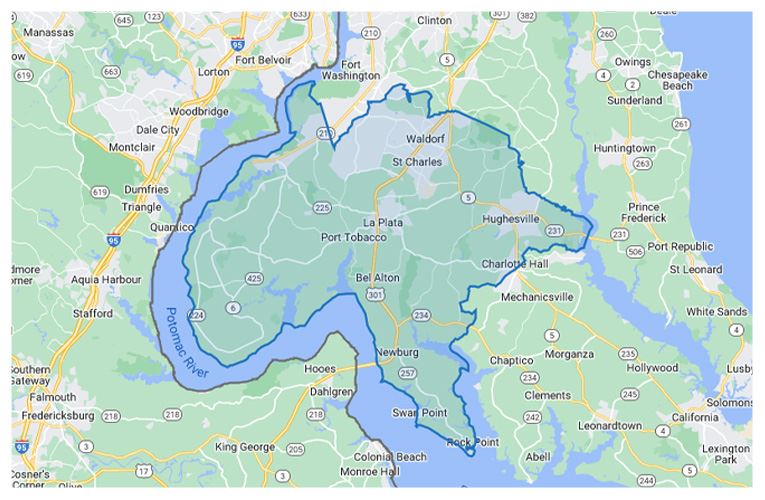 Quality Work
Since 1986
Contact Us Today!
My service was just finished by Ron and his helper, and I could not be happier. They replaced a couple of power outlets, a couple of light switches, and my fire detector. (Did you know you're supposed to have these replaced every 10 years?) These guys were professional, pleasant, efficient... AWESOME, I'll be calling in for additional work in the near future. (Hope I get these guys again!).

I was thrilled with their efficiency and customer service.  He arrived the same day, identified the problem quickly and after the part I needed came in he was back right away to install.  They even sent me a thank you for my business card!  This is a company with superior electrical skills and top-notch customer service.

We have a two-story foyer with a large chandelier. Yesterday afternoon the chain snapped and it was hanging by only the electrical cord. We called Goudie and they were here early this morning and fixed it immediately. They took the time to replace the bulbs and wash all the glass on the chandelier. Great service and very very responsive. Could not be happier.

Goudie Electric was thorough and extremely professional. Their customer service attitude is exceptional. Under very trying circumstances due to the national emergency, they diagnosed a very difficult service fault and accomplished a very complicated new installation, including difficult site constraints at a very reasonable price. Thank you so very much!

Outstanding customer service. Communication was great and the technician Ron was early which was a plus for us. He was quick to diagnose and remedy our electrical outlet issue. He also provided insight into why it happened and how to check for similar issues on other outlets. He also cleaned up once the job was complete which was a nice plus. We're keeping them in our list of housing contractors to do business with and we'll recommend them if the opportunity arises. Thanks again for fixing our issue and giving us piece of mind the job was done right.

We've had issues with our electric down by the pool. We had SMECO and various other electricians come out to see what the issue was a non of them could figure it out. John Goudie Electric figured out the issue within an hour. Spectacular service. Highly recommend.

Phenomenal Service from start to finish! Beginning with the phone call into the office, to the completion of the job, John Goudie Electric was, and is OUTSTANDING! After the installation of a chandelier and a ceiling fan (in two separate rooms😊) there was a slight connection issue with the fan and my current recessed lighting. I called to report the issue, and John & Krystal (sp) were immediately responsive, scheduled Me for a follow-up appointment, and the technicians were at my home bright and early to correct the problem! The combined effort of the office staff and the field electricians is extremely impressive (especially when professional and caring customer service is lacking in many areas/industries)! If you're contemplating hiring them... Wonder no more... HIRE THEM! You'll be HAPPY you did 😃 💃🏿!
~In Gratitude 🙏🏾

They provided outstanding service as a subcontractor to our company while upgrading LED lighting at one of the many government facilities we support. John Jr. and his team are true professionals. We highly recommend them for your Electrical needs.

The ABSOLUTE BEST Customer Service (including, compassionately following up when their work was complete)! This company is AMAZING… I received OUTSTANDING customer service, from the moment I frantically called, and Krystle (I swear she was a Godsend) calmly answered the phone. Her presence immediately put me at ease, and gave me an assured, confident feeling that she knew what she was doing and that she'd take care of Me. The field service techs were also very professional, thorough and courteous!

Krystle stands out because this Young Lady even followed up with Me on her way to a personal medical appointment… Now, who and what company does that???!!! I will DEFINITELY use this company again, and I HIGHLY RECOMMEND them for your electrical needs. Customer Service begins the moment You make contact, and for Me… Every moment thereafter, I felt like Krystle HAD MY BACK!!!!! Thank You so much in my time of need! It meant a lot to Me!
Dedicated circuits are used to power specific appliances throughout the home without risk of overloading. If you are planning to install a large appliance such as a refrigerator, washer, dryer, HVAC system, dishwasher, or any other unit with its own motor, you'll need a dedicated circuit installed. John Goudie Electric is here to ensure the job gets done right.
Circuit Breakers
The switch inside your electrical panel that protects an electrical circuit from being damaged by an overload is called a circuit breaker. When protective relays within the breaker detect a fault in the circuit, it interrupts the flow of electricity. Whether your current breakers are faulty, or you require more breakers for an increasing number of circuits, our electricians can help.
Electrical Panel Upgrades & Replacements
Is your current electrical panel capable of handling all your power demands? If your panel is over 25 years old, your lights flicker when you turn something on, or you recently installed more powerful appliances, now is the perfect time to upgrade or replace your electrical panel. Call our electricians today for an estimate.
Generator Installations
The storms we encounter here on the east coast often leave us without power for hours, days, or sometimes even weeks. Because you can't afford to be without power for so long, it's important to have a backup power supply for your home or business. At John Goudie Electric, we install Generac backup generators. Whether you need to power a few appliances or a whole building, we've got you covered.
Light Lift Installation
Would you like to install a vaulted lighting fixture in your home's entryway? Maximize your convenience with a light lift. This system will allow you to raise and lower your light fixture with the simple press of a button. We can even add a light lift to one of your current fixtures.
Manual Transfer Switch Installation
Installing a manual transfer switch for your generator allows you to choose which circuits receive power from your generator. For example, if you only want to keep the refrigerator on with your generator during a power outage, you'll just flip on that switch and leave all the others off.
New Home Wiring
John Goudie Electric can help you design and install custom wiring for your home. We'll ensure all your wiring is installed safely and according to code, leaving you with peace of mind knowing you're safe from fires and shortages. We install wiring for all types of electrics, including lighting, outlets, switches, hot tubs, EV charging ports, large appliances, and more.
Outdoor Lighting
If you're looking to show off your amazing landscaping and enjoy the great outdoors at night, it's wise to invest in professional outdoor lighting. John Goudie Electric installs a range of outdoor lighting systems, including floodlights, spotlights, path lighting, pool and hot tub lighting, and security lighting. Let our electricians help you create the perfect lighting scheme for your home's exterior.
Make John Goudie Electric your top choice for electrical services for your home or business. Call (301) 945-7688 for an estimate on any of our services!
100% Guarantee

36 Years Experience

Honest Assessments

Family Owned